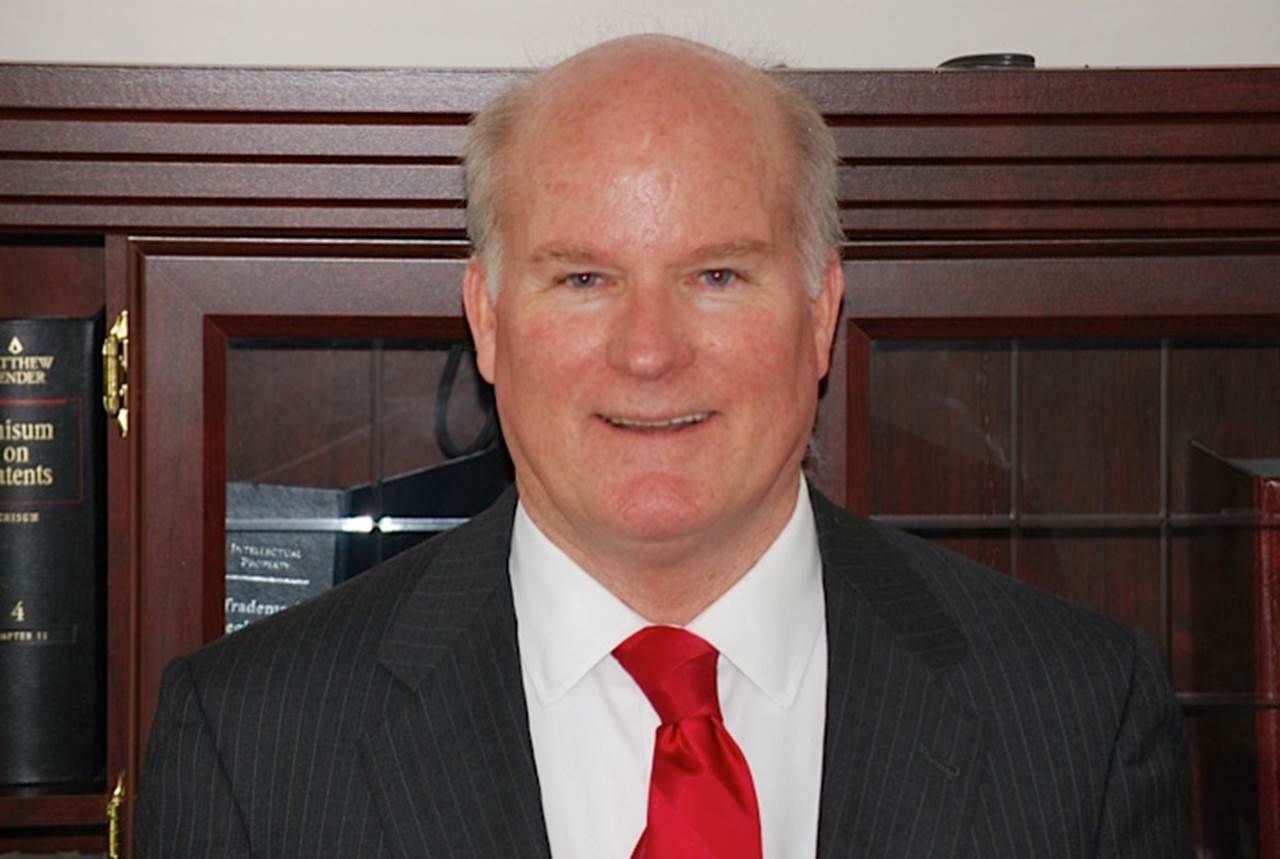 Sean M. McGinn
(Send e-mail)



Sean M. McGinn is the founder and principal in the firm, and is a registered patent attorney. He received a Bachelor of Science degree in Engineering from the United States Military Academy, West Point, New York, a Master of Business Administration degree from Golden Gate University, San Francisco, California, and a Juris Doctor degree from Santa Clara University, Santa Clara (Silicon Valley), California.

Mr. McGinn is a member of the California State Bar, the Virginia State Bar, the New Mexico State Bar, and the District of Columbia (D.C.) Bar. Mr. McGinn is admitted to practice in the Supreme Court of the United States, the Court of Appeals for the Federal Circuit, the U.S. District Court for the Eastern District of Virginia, the U.S. District Court for the Northern District of California, and the 9th Circuit Court of Appeals (San Francisco, California). As mentioned above, Mr. McGinn is also registered to practice before the U.S. Patent and Trademark Office.

Prior to entering his intellectual property law career, Mr. McGinn served in the U.S. Army as a Captain, Airborne Ranger, Senior Parachutist Jumpmaster, in the 82d Airborne Division, Fort Bragg, North Carolina, and as an Associate Professor of Military Science at Santa Clara University, Santa Clara, California, from 1979-1986. Besides teaching Military History/Strategy, he was also loaned out to the Department of Political Science teaching courses in International Relations.

Upon completing his military service, Mr. McGinn worked as a development engineer and researcher for the Lockheed Palo Alto Research Laboratories (LPARL), Lockheed Missiles & Space Company, from 1986-1989. Specifically, Mr. McGinn worked in product development and engineering design of high-speed data acquisition and analysis systems, and computer-aided design testing for components and sub-systems of the Space Shuttle, the Hubble Space Telescope, the Space Station, and other commercial and defense satellite payload and delivery systems.

As a member of LPARL's Computer-Aided Testing Systems Group, Mr. McGinn traveled to Chicago's Museum of Science and Industry to receive IR&D Magazine's IR100 Award for the Group's development of a unique high-speed data acquisition and analysis system, which was selected by IR&D Magazine's as one of the top 100 inventions worldwide for 1987. While at LPARL, he also performed design and testing on commercial vehicle safety systems used by General Motors and high-energy, real-time inspection systems used by the U.S. Customs for inspection and interdiction.

Prior to forming the firm, Mr. McGinn was a member, named partner, and director in a mid-sized intellectual property law firm in Northern Virginia for five years. Previously thereto, he was an Associate Patent Attorney in a large downtown Washington D.C. patent law firm for over four years.

From March, 1992 to 1999, Mr. McGinn served as a claims drafting instructor for the Patent Bar Review Course, and as an Instructor for the Advanced Application and Amendment Writing Workshop which were presented by Professor Irving Kayton's Patent Resources Group, Inc., in various sites throughout the U.S. including Chicago, Illinois, Pasadena, California, and Washington, D.C. In 1998, Mr. McGinn was selected by Professor Kayton to be a primary lecturer for the Patent Bar Review Course, as well as continuing his duties as a Claims Drafting Instructor and Advanced Writing Workshop Instructor.

Mr. McGinn is (or has been) a member of the International Trade Commission Trial Lawyers Association, the American Intellectual Property Law Association (AIPLA) and the Japan Practice Committee thereof, and the Licensing Executives Society (LES), and has been an active member of the American Bar Association (ABA), the Virginia Bar Association (VBA), the Washington Foreign Law Society and the Fairfax Bar Association, as well as a member of the Society of American Military Engineers during his military service and while at West Point. In 1990, Mr. McGinn was named as an "Honored Member" of Who's Who in Practicing Attorneys™.

Mr. McGinn is a frequently invited speaker, lecturer, and panelist on intellectual property issues. On numerous timely Intellectual Property topics, Mr. McGinn has provided well over 1,000 lectures and presentations to his domestic and overseas clients, fellow association members, and International conference attendees. Mr. McGinn is also widely published in both technical and Intellectual Property journals.

Given the international nature of the Firm's clientele, Mr. McGinn has extensively traveled, for business, as well as with the military and privately. He has visited clients in over fifteen (15) different countries. Mr. McGinn also spent the bulk of his formative and elementary school years in Central and South America, where his father was an executive manager with the United Fruit Company (Chiquita Banana Division) in countries including Colombia, Honduras, Nicaragua, Costa Rica, and Guatemala. Moreover, having spent his high school exchange period in Kagoshima, Japan, he travels to Asia (including Japan) at the request of some of his clients 2-6 times per year.

Mr. McGinn also is active in his community as a Little League Baseball/Youth basketball/Youth Football/Youth Ice Hockey coach/manager since 1994, as a Cub Scout/Boy Scout volunteer, and as an instructor of the Spanish language for a private elementary school.








---
| Sean M. McGinn | Sam Sahota | Geoffrey K. Pechie | Ian McGinn |
---
| Return Home | About Our Firm | Our Attorneys and Agents | Litigation/ITC | Directions | Employment | THIS IS AN ADVERTISEMENT |